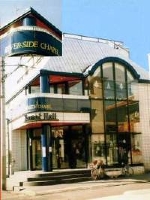 RC is an orthodox Protestant church which bases faith on the Bible.
Please feel free to contact us if you have any questions.

Japan Assemblies of God
In 1991, RC started with 3 members as a church plant of Shinsho Kirisuto Church of Takinogawa, Kita-ku, Tokyo (the birthplace of AG in Japan).
At the present, RC has become 14 churches in Japan and 25 churches overseas.
All together, approximately 2500 people attend the services.
RC is an international church that aims to have worship in 7 languages.

Japanese
■Matsubara Chapel (headquarters)
 Early Morning Service
 For those who have work on Sundays
 7:00 - 8:00
 1F
 Main Service
 Regular service
 (incl. various events)
 1st 10:30 - 11:45 
 2nd 12:15 - 13:30
 2F
 English Service
 Bilingual Jap.-Eng
 15:00 - 17:00
 2F
 Tagalog Service
 Filipinos
 15:30 - 17:30
 Soka Bunka Kaikan
Yatsuka/Matsubara Community Center



| | | | |
| --- | --- | --- | --- |
|  Soka Kids |  Elementary school children |  8:50 - 10:15 |  Soka Chapel |




■Asakusa Chapel (Asakusa City Church)




■Okayama Chapel (Riverside Church Okayama)



 ※CS (Children's Service) page CLICK HERE⇒★


Foreign language service




 English Service
 15:00 - 17:00
 Matsubara Chapel 2F
 Tagalog Service
 15:30 - 17:30
 Soka Bunka Kaikan
Yatsuka/Matsubara Community Center





| | | |
| --- | --- | --- |
|  Yashio Chapel |  new sanctuary was given in 2012 |  Japanese&Filipinos |
|  Yatsuka Chapel |  utilizing a public hall for services |  Japanese&Filipinos |
|  Hachioji Chapel |  Japanese-Filipino church |  Japanese&Filipinos |
|  Satte Chapel |  Japanese-Filipino church |  Japanese&Filipinos |
|  Yamato Chapel |  Japanese-Brazilian church |  Japanese&Brazilians |
|  Isesaki Chapel |  services held in a small building |  Japanese&Brazilians |
|  Suwa Chapel |  large church built by Brazilian brothers |  Japanese&Brazilians |
|  Komaki Chapel |  new Japanese church |  Japanese&Brazilians |
|  Nagoya Chapel |  Brazilian church |  Japanese&Brazilians |




CS(Church School)

 Soka Kids
 Elementary school children
 8:50 - 10:15
 Soka Chapel
 Soka Junior Service
 Junior high school children
 17:00 - 18:00
 Soka Chapel
 Riverside Kids Soka
 Children who come to the park
 Saturday15:30 -16:30
 Sunday15:30 - 16:30
 Soka Azuma Park

 ※For details, GO TO THE KIDS PAGE⇒★

Prayer Meeting




 Pentecost・WRC Prayer Meeting
 Everyone
 Wednesdays 19:30 - 21:00
 Matsubara Chapel 2F
 Women's Prayer Meeting
 Women
 Every other Thursday 10:30 - 12:00
 Matusbara Chapel 1F
 Every other Saturday 14:00 - 17:00
 Early Morning Prayer
 Everyone
 Tuesdays~Saturdays 6:00 - 6:30
 Matsubara Chapel 2F

School

 Riveside International School(RIS)
 Elementary school children~Youth
 Holy Spirit Training School(HSTS)
 Church member
 Suspension
 Holy Spirit Bible School(HSBS)